Block or Xref what should we use?
Blocks and Xrefs they look so similar if a person is new to AutoCAD. However, there are a lot of experienced users who are so used to blocks that they don't even try to learn what a Xref is.
The main difference between Block and Xref is that Block is part of the drawing while Xref is an entire new drawing file. Being so different in their definition they are suitable for entirely different tasks. Of course, you can make a drawing file with your door and attach it as external reference to for example your main floor plan, but that won't be a smart solution.
What are AutoCAD Blocks
Blocks are usually used when we need to duplicate small complex objects that can exist hundreds of times in one drawing. They are great tool that can minimize errors in drawings, make files lighter and accelerate our work. For example table block or door block. When we create our own library with blocks it becomes really easy to create our drawings. Here is an example of Sign block library.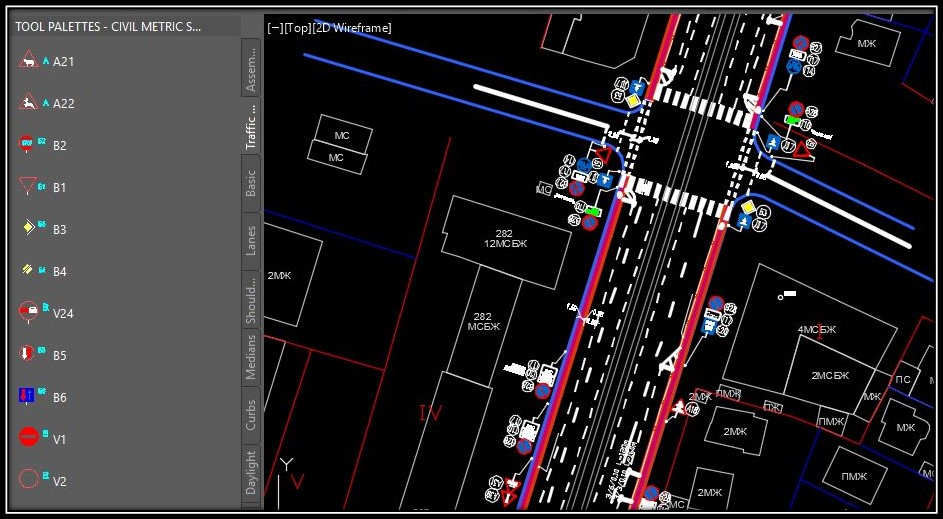 So let's make a list of the tasks that would need using blocks:
We have lots of identical objects in our drawing. Like the traffic organization example or doors in architect's floor plan:

We want to edit multiple objects at once. For example if we want to enlarge our doors we can simply edit the block from block editor.
We want to create bill of quantity for different unified object. For example, we want to know how many 3′ doors we have. Just select the block and hit select similar.

We can create report using blocks in the drawing using Data Extraction. For example, we can create a coordinate report for curb curves.
We want to send just a part of the drawing to a client. This could be made easily with command WBLOCK.
We can use dynamic blocks. Dynamic blocks have extended functionality, with one dynamic block we can replace several normal ones.
Why use Xref?
We already disguised What is Xref? Why should we use it? So there is no need to explain again what exactly is external reference. Now when would we prefer to use Xref rather than block:
When there are other specialists that work on other part of the project, and we need their work referenced in our drawing. We can actually use block either, but when a correction is made to the drawing we want to have attached, block won't upgrade, and we would have to edit it or replace it in the current drawing.
When we want to attach the same base drawing in multiple drawings. For example: We have main floor plan as base and then create furniture drawing, water and sewer drawing, electricity plan etc. We can again use blocks, but it is way more flexible to use Xref.
Using Xref makes our drawing less complicated and lighter. If we have a very complex drawing, with a lot of nested blocks, our file can easily get corrupted.
The only disadvantage of xref in those situations is that referenced drawings can easily get lost. This is usually due to forgetting about them when we send mails or if we try to use host drawing in different computer.
I would suggest reading the post about Attaching Xrefs, so you will know how to properly attach a Xref and the post about Xref – choosing our Path Type.
If we want to send drawings that contain Xrefs the best way for us to do this is to use eTransmit command. That way we won't left any file behind.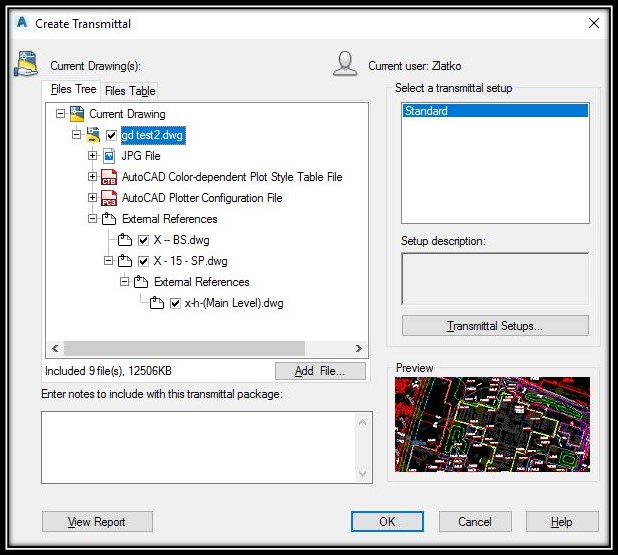 We are sorry that this post was not useful for you!
Let us improve this post!
Tell us how we can improve this post?