As we discussed in the previous post related to Civil 3D – How to find Closest Distance Between 2 Objects? there are a lot of great drafting tools that can improve our work.
Create Outside boundary of Multiple objects
For today's post, we are going to look at a tool that automatically creates Polyline around the Outside of Multiple Objects.
This can be really useful when we need to compute some overall areas. For example, if we have several parcels and we want to get the whole area they take. Or if we have some irregularly shaped objects and we want to compute their area – like river outline.
The command – LINEWORKSHRINKWRAP
The tool's command is LINEWORKSHRINKWRAP. Civil 3D will automatically auto-fill the command if we type in "Linewo" so don't worry if you can't remember the whole thing… After starting the command we just have to select objects from which we want to create the outer polyline.
Note: This tool works with all AutoCAD objects like line, polyline, circle, etc. as well as with Civil 3d objects like corridors, surfaces, etc.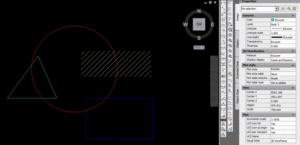 We are sorry that this post was not useful for you!
Let us improve this post!
Tell us how we can improve this post?