AutoCAD is computer-aided design software that uses .dwg file format for its drawing files. Today we will go through the steps to change the default save location of those .dwg files as well as explain the main file formats used in the software.
What is a .DWG file
DWG is a proprietary file format used to store 2D or 3D drawing data. This file format is used natively in several CAD programs more particularly in AutoCAD, BricsCAD, DraftSight, even free software like FreeCAD, and more. In addition, .dwg files can be used in other programs as references or additional information like in BIM software for example.
In addition to the main .dwg files, AutoCAD also uses other supplementary formats like .bak (drawing backup), .dws (drawing standards), .dwt (drawing template), and .sv$ (temporary automatic save) to store drawing data.
.bak and .sv$ files can be used to restore lost data from an earlier time, we have discussed the issue in depth in FATAL ERROR in AutoCAD!? How to Restore Drawing Data?
Change the Default Save Location in AutoCAD
To change the Default Save Location of the drawing files in AutoCAD we will go through several steps:
Right Click on the AutoCAD icon on your desktop or in Start Menu and choose Properties.

In the Properties Window, go to Shortcut section. There, change the Start in: path to the one you will to use as a default save Location.

Open AutoCAD Software and on command line type in REMEMBERFOLDERS, enter value 0.

That was it! Now when saving, the files will go to the folder you entered in step 2.

Note: REMEMBERFOLDERS is a system variable that controls the default path displayed in standard file selection.
– The default value is 1 more particularly: The default path in standard file selection is the last path used. Also, the Start In folder specified for the AutoCAD shortcut icon is not used.
– When set to 0 starting the program by double-clicking a shortcut icon, Start In path is used as the default for all standard file selection dialog boxes.
You can find more detailed information here.
How to Change the Default Drawing File Format in AutoCAD
By default, AutoCAD saves the drawings in .dwg file format using the current (latest) version installed.
For Example, if the Software version you are using is AutoCAD 2021, the default file format will be AutoCAD 2021 Drawing (*.dwg)
In some cases, though, it could be useful to save drawings to lower versions. That way colleagues that use older software versions could open and use your drawings.
Note: Check out how to Convert DWG file to Older Version without AutoCAD. To learn how to scale back a drawing you've received.
To change the default file format, right-click on the AutoCAD screen and select Options. On the Options menu, go to Open and Save, there under Save as: click on the drop-down menu and select the version you would like to use.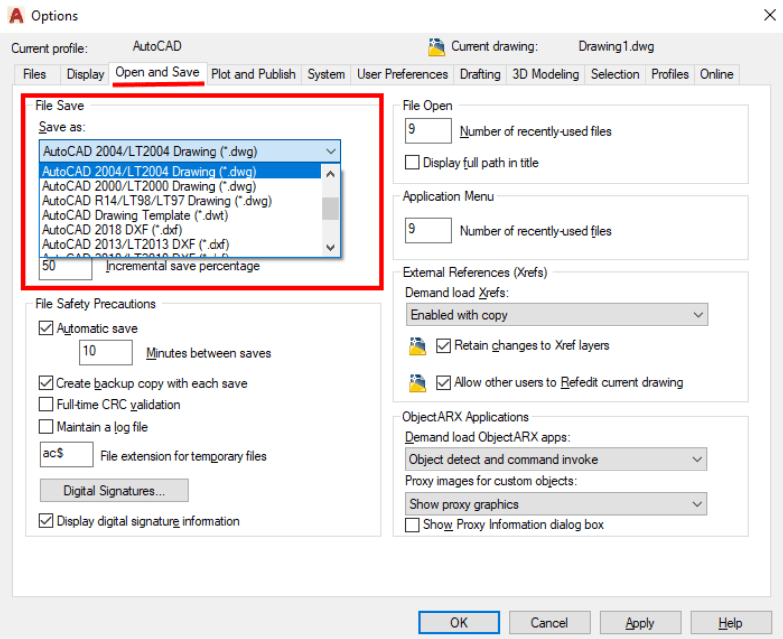 If you found this information useful. Don't forget to check our other AutoCAD Tips for more great Tips and Tricks just like this one!
We are sorry that this post was not useful for you!
Let us improve this post!
Tell us how we can improve this post?