The current Policy of Autodesk is to push a newer version of our favorite Computer-Aided Design program AutoCAD every year. They include some new features and remove bugs that were previously present.
This sounds great and it is, however, if you are not a subscription member, you will have to buy new software every year. This definitely is not a good financial idea in most cases. Even if you have the newer versions available it may be possible to pass one or two yearly updates and wait for some bigger changes. A lot of people don't have time to spend updating all their Workstations with a newer version every twelve months.
In many instances users are using an older version of the software, and here comes the problem. In most cases, files Created with newer AutoCAD versions are not compatible with the older ones. This is the moment when we see the current Error: "The drawing file cannot be opened because it was created with more recent version of AutoCAD" when opening a file in AutoCAD. Now we will look closely at the solutions.

DWG True View
The first solution is, in my opinion, the most powerful and useful. We will convert .dwg versions with freeware provided by Autodesk – DWG TrueView.
First, we have to download the program from https://www.autodesk.com here is a direct link for downloading: Click!
At the moment of writing this article the download button is located at the bottom of the page, we have an option to download 3 different.dwg viewers, the one we need is DWG TrueView.


We will download a .exe file, and after launching it will download a new archive file that would contain all the data needed for installation. Now we have to simply install the program.
After installation we can run the TrueView, when we first start it, it will ask us if we want to reassociate dwg files with it. I personally don't want that, but it is a personal choice.
The interface is pretty familiar to convert the .dwg files we will go through these simple steps:
Open a drawing, then at the upper left corner, we can click on DWG Convert

.A window will pop up. Here we Add drawings that will be converted by clicking on Add file… Button (Highlighted with the red rectangle). After selecting the files we can simply select one of the preset conversation setups located on the Right side or Create our own by clicking on Conversion Setups…I like to create my own that works best for me, so now we will look at the creation process.

After Clicking on Conversion Setups… A window will pop up, there we hit New…
A new window will pop up, there we fill up the name and choose Based setup.
In Modify Conversion Setup window we can configure different things like:

Conversion Package Type: Choosing between Overwrite files or Saving a New Copy
File Format: The Drawing File Format (Version)
Actions: Here I like to check, Creating .bak files, Convert Digitally Signed Files, Check and Fix Errors and Purge the drawings.


After Selecting our options we can go ahead and hit OK and then on DWG Convert Window hit Convert.
This is the whole deal, Easy and Freeway to batch Convert multiple .dwg files from one version to another.
Using AutoCAD 360 Web
If you are a Mac user, or you don't want /can't/ install new software to your PC you can use the AutoCAD 360 Online platform.
The process is pretty easy too, you have to log into your AutoCAD 360 Web, then upload the file you want to convert, open it and then select Download.
Now Choose DWG and then the Necessary version.
DWG FastView for Web
This is a free Online DWG Viewer that has some great features. One of which is to convert DWG files to Older Version Online for Free. You can learn a bit more in our post about Free Online AutoCAD Viewers.
The Interface is quite comprehensive, to convert a drawing to an older version we will go through the following steps:
Go to the FastView website: https://en.dwgfastview.com/ and click on Open Drawing.
A new internet tab will pop up with a prompt Select a Local File. Click on it and select the drawing you want to convert from your computer.
Note: In order to use the Drawing Viewer you would need to install Flash Player if you don't already have it.
Your drawing will load onto the browser window, at the upper left corner click on Save As button.

A "Save As" window will pop up, there you type in the File name and choose from the drop-down menu, the desired AutoCAD version to convert to.
Hit Save and you are ready!

This is an excellent method for quick conversion of a drawing file to an older version. It is for everyone that doesn't want to go through the hassle of installing additional software or losing time on registrations.
Online Drawing Converters
Another great way to convert a DWG file to an Older version is using an Online File Converter. This is by far the fastest and easiest way to do the trick, however, not all Online Converters work as promised and some require registration for the download of the files.
This is why I checked some and am posting here the two that converted files quickest and without asking me to fill up any information.
Online-Convert
This is a great Online DWG Converter that has a very easy-to-understand layout.
The main Advantages are as follows: Quick Conversion, Great Interface, There is a Free plan, and It is not necessary to register.
There are also some Disadvantages: Batch Convert is only in the paid plans, Free version converts files up to 50MB.
To use it go to Online-Convert to DWG
Add the file you will convert. You drag and drop a file directly into the browser, upload one from the computer, or enter a URL, use Dropbox or Google Drive.
From Optional Settings, choose the desired version of the AutoCAD drawing file.
Lastly, click START to start conversion.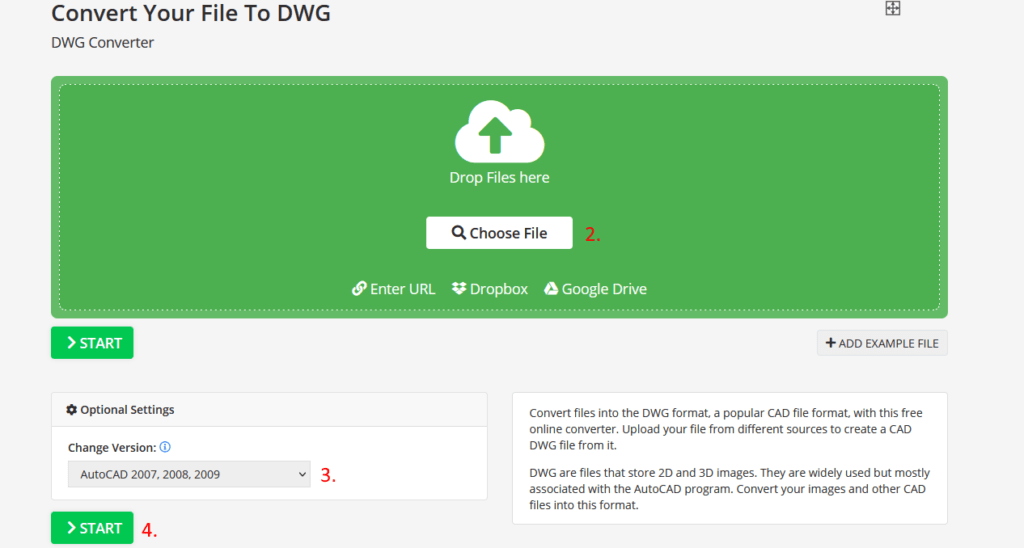 The process usually takes seconds to complete, after that the converted file should be automatically downloaded.

If you need to convert lots of files, you can consider one of the paid plans.

Cloud Convert
This is another great Online Drawing Converter that can convert AutoCAD DWG files to an older version.
Advantages: Great Design, Quick Conversion, the Free Plan can Batch Convert, and It is not necessary to register.
Disadvantages: The free plan only allows 25 conversions per day, For more than 10 conversion minutes a day, you need a registration.
To use it go to CloudConvert.
Select the type of file you will Convert, in our case it is DWG to DWG.
Add the file you will convert. You can use one of the following methods: upload file from the computer, or enter a URL, use Dropbox OneDrive or Google Drive.

Then click on the Options button, and choose the desired version of the AutoCAD drawing file.
Lastly, click Convert to start conversion.

Again there are Pricing | CloudConvert if you need more conversion sessions/minutes.
Ask a Friend
Of course, you can always ask a friend or the person who sends those files to you to save them on a lower version. However, I would steer away from this. It will take much more time and will make us look like total moaners.
So stay tuned for more useful content and don't forget to subscribe and follow us on social media.
We are sorry that this post was not useful for you!
Let us improve this post!
Tell us how we can improve this post?