While I was doing my research for the Best Free AutoCAD Alternatives in One place! I found out about this great free CAD tool. No matter if you are a CAD professional or a novice CAD user, looking for a fun and creative outlet, LeoCAD is the ultimate tool for you. This free and open-source software, that lets you design and create virtual models using virtual LEGO bricks right from your computer. Even if you're a LEGO enthusiast, looking to sharpen your CAD skills or just have some fun building, LeoCAD is the perfect playground to unleash your creativity!
What is LeoCAD? A Virtual LEGO Constructor?

LeoCAD is a 3D computer aided design (CAD) software designed specifically for creating virtual models with LEGO bricks. It features a user-friendly interface and a comprehensive library of LEGO bricks and parts, making it easy to design and build your own creations. This virtual LEGO Builder is free and open-source, which means you can download and use it absolutely for free!
How to use LeoCAD?
To start using LeoCAD, simply download and install the software from the official website, https://www.leocad.org/download. It is compatible with Windows, Mac and Linux operating systems.
Once installed, you can start designing your own virtual LEGO models by selecting and placing bricks from the parts library. You can also change the color and size of the bricks, rotate and move them around, and even create your own custom parts using the built-in editor.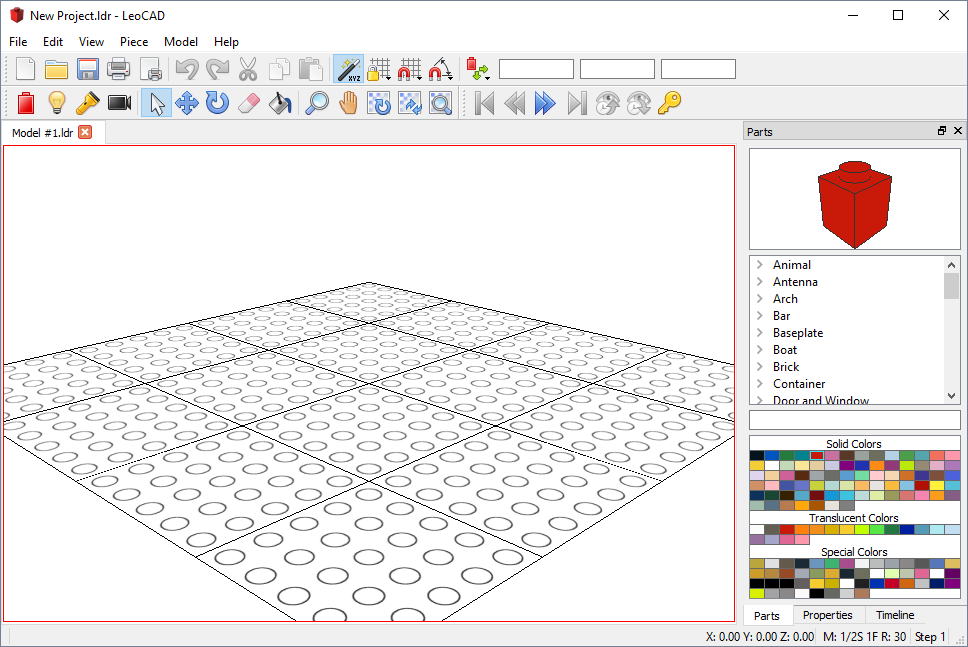 On the LeoCAD's website, under Documentation, you will find a comprehensive general information about the LEGO Building software, complete parts library and great tutorials.
With the help of which you will be able to start constructing your own design in minutes!
Why use LeoCAD?
There are many reasons why AutoCAD professionals, CAD students and LEGO enthusiasts should try using LeoCAD, including:
Fun and engaging: The virtual LEGO Constructor LeoCAD lets you explore your creativity in a fun and engaging way. You can design and build anything you can imagine, experiment with different colors, sizes, and shapes of LEGO bricks, and create unique and complex models that will challenge your skills and imagination.

Learning tool: LeoCAD is not just a toy, but also a valuable learning tool. By building and testing your virtual models, you can gain valuable insights into the principles of physics, mechanics, and geometry, and apply them to your CAD work.

Collaboration: LeoCAD also allows you to share your creations with others and collaborate with other users. You can export your models as 3D files and share them on social media or other platforms, or even upload them to the official gallery.
Integration with AutoCAD: LeoCAD also integrates with AutoCAD, making it easy to import and export models between the two programs. This feature is especially useful for CAD professionals who want to incorporate LEGO models into their AutoCAD designs.
LeoCAD is the ultimate CAD playground for LEGO lovers that lets you unleash your inner builder and explore the world of virtual building. Whether you're a LEGO enthusiast, looking to sharpen your CAD skills, or just have some fun building, LeoCAD is definitely worth trying. So why not download it today and start building your own virtual LEGO models? Let LeoCAD take your CAD skills to new heights, and enjoy the fun and creativity along the way!
If you are looking for qualified, easy to understand and extensive AutoCAD information, don't forget to look at our AutoCAD related posts!
We are sorry that this post was not useful for you!
Let us improve this post!
Tell us how we can improve this post?